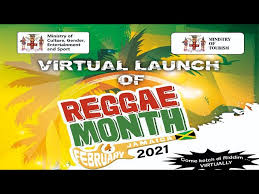 Yet again Reggae's resilience has shown through, with the power-packed list of events set to take place, even though, the month's celebration has to be moved to a virtual platform.
Reggae month 2021 started with just the right spark. crowned prince of reggae Dennis Brown's birthday was celebrated on February 1. The King of reggae's birthday is just three days away. With a number of events slated to take place throughout the month of February the event is being sponsored by a host of companies in collaboration with the Ministry of Culture, Gender, Entertainment and sports as well as the Ministry of Tourism.
Ensuring that the months festivities remain a "big deal" the sponsors have created the Reggae Jamaica App. The app is available on both Google Play Store and the App Store; to capture a wider range of viewers.
With tribute night set for Wednesday, February 3 and reggae icon Bob Marley's "76th Earthstrong", celebration set to get underway on Saturday, February 6. Viewers can expect to come "Ketch de Riddim….Virtually" for reggae month 2021.
~T.M