Twenty six year old, young reggae sensation Joshchia Dayes hails from the  Stony Hill community located in St. Andrew, has a passion for cultural music, having experimented with various genres of music. He is known by his peers as being an outspoken, fundamental individual who is hard working and determined to achieve his goals despite the odds that may arise from him being a new artiste.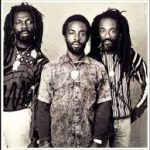 He has always been around music at a tender age, as his father given name Roy Dayes, known as "Kenneth Culture" was a member of one of roots-Reggae's most influential groups "Culture" for over twenty years, along with other members including Joseph Hill and Albert Walker. Being around this set of talented individuals has influenced his love for music, and in the year 2006 he decided to take his musical involvement more seriously.
His music has inspired a lot of young youths in the community as well as outsiders. He is currently working towards recording and writing more songs to improve his musical catalogue. In an interview the artiste explained how he his hungry to make musical waves in the industry. His diversity and performance skill is a force to be reckoned with, as he believes he have what it takes to walk the road of all the great veterans before him. He is better known for track he was featured on with Dancehall artiste Trapycal titled "Dem Nuh Real".
Click to view the video below:
Centre Stage with Joshchia Dayes