The multi-talented British born Edward Christopher Sheeran, affectionately known as Ed Sheeran; singer, songwriter, guitarist producer and actor has declared his longstanding love for Reggae Music for all the world to know.
The recently crowned 2017 MTV Artiste of the Year and 2018 double Grammy Award winning, Sheeran remembers his 'roots' as he included Reggae covers in his sets when he performed  before his meteoric rise to stardom, where he details "No Woman No Cry" as his favorite song to hear at family gatherings in Ireland growing up.
It is no surprise then that Sheeran has declared his desire to do a collaboration with Damian Jr Gong Marley,  after both featured on a Reggae compilation album entitled for Tropical House Cruises to Jamaica, digitally released by Contractor Music Group, and distributed by Atlanta based Amada records. Sheeran expressed how proud he was to be a part of the project alongside Damian as music lovers around the world look forward to the possibility of the two working together.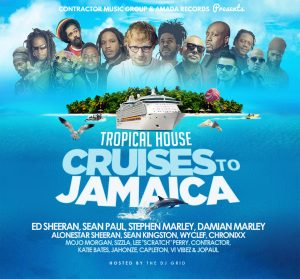 The sub genre 'tropical house' has emerged in recent years to identify pop hits influenced by Reggae/Dancehall from Jamaica and Trinidadian Soca. Several Billboard Hot 100 chart toppers have been deemed to be a part of this hybrid genre of music and a few are: "Cheerleader" by Omi,  Justin Bieber's "Sorry". 
Executive Producer or the project Sean "Contractor" Edwards, the managing director of Contractor Music Group, dubbed the compilation Tropical House Cruises to Jamaica based on his observations that the emergence of the tropical house genre and Damian Marley's Welcome to Jamrock Reggae Cruise have impacted reggae music the most in the last five years, which gave rise to to incorporate a cruising feel in the title along with the label 'tropical house' because they are targeting younger fans who are aware of the island-influenced hits of the various pop artists.
'Tropical House Cruises to Jamaica' project also featured the likes of renowned musicians such as Wyclef Jean, Sean Kingston, Safaree, Sean Paul, Chronixx, Vybz Kartel, Mojo Morgan, and Stephen Marley. The album entered the at the number two position on the Billboard Reggae Charts in December 2017 and has spent weeks in the top spot.
Ed Sheeran Facinated with Reggae Music wants Marley Collab