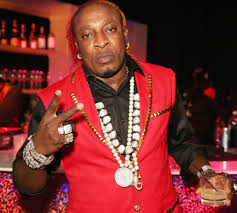 Elephant Man appeared on Reggae Sumfest in 2001 and he has performed at this year's virtual Reggae Sumfest.
Elephant Man born Oneal Bryan is a Jamaican dancehall musician and singer. Elephant Man started out his musical career in 1995 as a member of the Scare Dem Crew, later continuing as a solo artist. Elephant Man was characterized by several trademarks, such as his dyed yellow-orange hair, his unique low-key voice, and his stage performance, which included jumping and running, or even climbing on stage props and monitors. Elephant acoustic trademark is a light lisp.
Elephant song "Willie Bounce" appeared on several mix tapes in early 2006. It used the first few bars from "I Will Survive" by Gloria Gaynor. "Willie Bounce" has been described as one of Elephant Man's most recognizable songs, with the corresponding dance still enjoying popularity as of 2015.
Elephant Man signed with New York-based label Bad Boy Records and released Let's Get Physical on 6 November 2007. The first single was called "Five-O" and featured Wyclef Jean. Another track on the album featured Diddy and Busta Rhymes, and it was produced by Cipha Sounds and Solitair.
Many of Elephant Man's songs are found on various Riddim Driven albums by VP Records and Greensleeves Record's Rhythm Album series. Elephant performed on popular riddims such as "Diwali", "Coolie", "Stepz", and "Bubble Up".
The Gully Creeper dance, for which Elephant Man created a song, was danced by Usain Bolt at the 2008 Summer Olympics in Beijing after winning the gold medal and breaking a world record in the 200 meter sprint. In 2009, Elephant Man released a cover of the song "We are the World" in tribute to Micheal Jackson. Elephant also plays one of the following song "Ooo la la" by Teena Marie. In 2013 he did a cover of Eminem's song "Berzerk". Also he first appeared on BET Awards where he sang with Beenie Man. He was invited to sing on the album Free the Universe by Major Lazer, where he collaborated for the song "Wind Up".

ELEPHANT MAN FOR REGGAE SUMFEST 2020