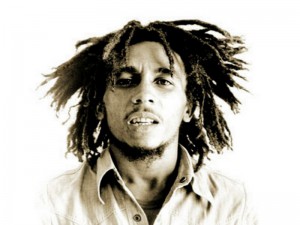 FREE EVENTS TO MARK BOB MARLEY'S
70TH BIRTHDAY CELEBRATIONS._______
The late Hon. Robert Nesta Marley O.M. would have celebrated his 70th birthday on, February 6. In view of this, the Marley family will be hosting several events on that day under the theme, "The Legacy Continues."
These planned events will be staged on the grounds of the Bob Marley Museum, 56 Hope Road and at the Tuff Gong International studio at 220 Marcus Garvey Drive in Kingston.
The general public will be admitted free to these events. The proceedings to be staged at the Bob Marley Museum on the day stated above and will commence at 10:00 a.m. Activities will include discussions on, "Fashions and Reggae", "Reggae Music" and "Film, Marijuana and the Economy." Some of the presenters will include, Dr. Dennis Howard, Dr. Sonjah Stanley and Carole Beckford.
Listed among the activities will be the unveiling of Bob Marley's 1976 Land Rover, series 3, which was recently fully restored to pristine condition and will go on display permanently at the museum location.
Later in the day Chronixx, Labaka Pyramid and the Bongo Band, No-Maddz, The Uprising Roots Band, Iba Mahr, DBrunz and Ishabel, among many others will be showcased in a celebratory Reggae Jam session. It should be noted also that secured parking will be made available to those interested in attending. Attendees will be able to park on the grounds of the Police Officer's Club, 34 Hope Road. A shuttle service will be provided to transport people to the location at 56 Hope Road.
The Tuff Gong International event set for the same day will largely cater to children. They will be engaged in reading extracts from Cedella Marley's books, "Three Little Birds" and "The Boy from Nine Miles." An excerpt from the theatre
Production, "Nesta's Rock", will also be presented.
Finally, a free Bob Marley concert will be staged on the water front, in downtown, Kingston on February 7.
FREE EVENTS TO MARK BOB MARLEY'S 70TH BIRTHDAY CELEBRATIONS.