World famous power couple  R&B female singer  "Queen Bey" Beyonce along with  Hip Hop Superstar husband Jay Z , arrived in Kingston, Jamaica early Monday morning accompanied by their children which includes daughter Blue Ivy, their twins Rami and Sir along with their Nanny.
It is suspected that the visit to the island is primarily for the couple to record music and videos to promote their upcoming " On the Run  Tour" which kick off in June of this year, as it also being reported that the talented director Melina Matsoukas is also in the island to work with the couple on their new project.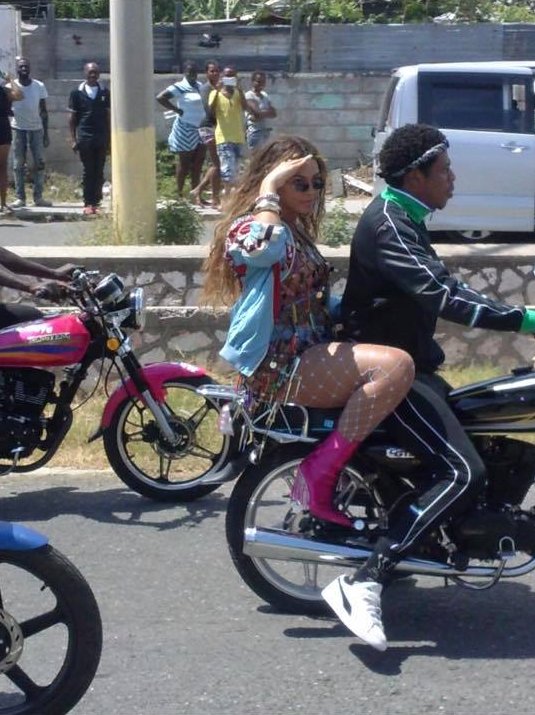 On Tuesday March 20th onlookers in Trench Town, Kingston the hometown of Bob Marley were overjoyed after given the opportunity  to witness arguably the wealthiest and most popular couple in Music dress down and ride through their community in true 'Raggamuffin' spirit atop the signature 'Yeng Yeng' bike during their video shoot.
Beyonce could be seen on the back of her Husband Jay-Z's Yeng Yeng riding along Collie Smith Drive. Followed by numerous bikers.
The Marley presence could be felt at the video shoot that was in progress as Donisha Prendergast,  granddaughter of the late Bob Marley could be seen ensuring that onlookers didn't get too close to the set.
The Marleys and Jay-Z share a good relationship, as Jay Z recently shot his video to a tribute song which appeared on the Megastar's 4:44 album and featured Damian Marley, and is entitled 'Bam', and co-incidentally Trench Town was the location for the video shoot, and sampled some cornerstone Jamaican music such as Jacob Miller's Tenement Yard and Sister Nancy's "Bam Bam" . 
There great reason to be excited because the upcoming project might feature Beyonce… However we will have to wait to see……
Click play to listen to 'Bam'
ON " THE RUN TOUR  II "NEW DATES RELEASED:
Amsterdam – June 20
Washington, DC – July 27
 East Rutherford – Aug.
Chicago – Aug. 11
Columbus – Aug. 16
Columbia, SC – Aug. 21
Atlanta – Aug. 26
LA – Sept. 23
Seattle – Oct. 4
Hip Hop Icons Jay Z and wife Beyonce in JamRock