The Wilkswood Reggae Festival was founded by Dubwood productions an by product of the award winning Bournemouth based Dubheart band. The festival is in it's third year of production and the theme for this the 2018 edition will be"Peace, dub and harmony in the woods by the sea".
This year Wilkswood/Dubwood Reggae Festival will feature the iconic Jamaican great Lee "Scratch" Perry, who is a Jamaican musician and an inventive producer recognized for his creative studio techniques and production style.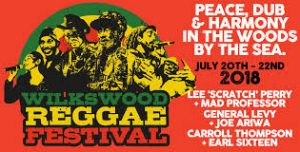 The Festival is a three day event, to be held on a six hundred acre farm on the outskirts of Purbeck Village of Langton Matravers will be the home ground for the festival running from July 20-22, 2018.
Other acts slated for the festival include Mad Professor, Earl 16 and Carroll Thompson, which will be backed by Upper Cut band. Native entertainers such as Dubheart and Country Man Sound System will also be there to ensure that authentic reggae vibe is delivered.
There will be numerous lesser activities that will be taking place over the weekend which include Jamaican spoken word poet Kie Miller as well as round table talks with performing artistes.
The event has steadily grown over its first two stagings with the amount of recorded patrons quadrupling in the show's second year; while organizers are confident the third edition can be the biggest and best staging.
Early bird tickets are already sold out and full admission and three nights camping for adults will cost £120, under 17 goes at a cost of £60, under 13 at a price of £20 and admission free for under the age of three.
PHOTO OF ONE OF ITS FESTIVAL BELOW:
Lee "Scratch" Perry to headline Wilkswood Reggae Festival