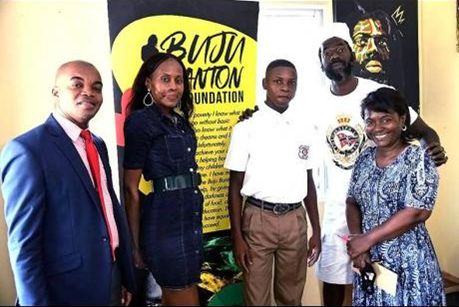 In honour of his beloved mother Murdine Clarke, Alumni of Denham Town High School and Reggae Icon Mark "Buju Banton" Myrie has now established a new scholarship. This award is set to benefit boys from Banton's Alma Mater, who faces financial challenges yet still strive for excellence academically.
The first recipient of the Murdine Clarke scholarship is fifteen (15) year old Tajay Bailey. A respectful student to both school officials and peers, Tajay thrives for academic excellence daily, lauded as a resilient student who directs his energy to positive endeavors. Being raised by his grandmother due to his mother being ill and his father deceased, he will be receiving a grant totaling One Hundred Thousand Dollars ($100,000.00) for the procurement of school supplies.
Being a product of abject poverty himself, to have big dreams but due to lack of a helping hand, to not have the basic needs for daily life but a determination to succeed, Banton established the "Buju Banton Foundation" to ensure that these youngsters could have equal opportunity to a better life.
The presentation was made at Gargamel Music Inc in St. Andrew last Friday. Tajay was advised by Buju to stay focused on his subjects, accounting and writing especially as he will need those to be successful in the working world. An elated Bailey shared his appreciation for being the first recipient of the Murdine Clarke scholarship and stated he planned on staying focused on his studies as he is determined to serve as one of Jamaica's meteorologist.
Principal Donovan Hunter was grateful to Buju Banton and the Buju Banton Foundation for the scholarship, acknowledging that the students will benefit a great deal as there are a lot of students from the same socio-economic background who are motivated by Banton and who will appreciate it very much. He is also grateful that the entertainer is a past student of The Denham Town High School and wish more past students would do the same to support current students in struggling situations.
The Sunbeam Boy's Home was the first to experience the generosity of Buju as he donated his entire win of Three Million Dollars ($3,000,000) to the Home, which he received from winning the 2020 Jamaica Festival Song competition with I am a Jamaican.
NAMED IN HONOR OF HIS MOTHER- Buju Banton provides scholarship