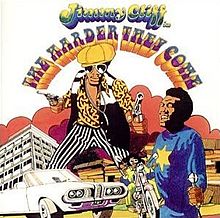 The Harder They Come by Jimmy Cliff
This album was released in 1972 in the UK. In 1973 it was issued in North America where it peaked on the Billboard 200 at #140.
This 12 track album is a soundtrack to the movie 'The Harder They Come' which was released in 1972 and also starred the artist Jimmy Cliff.
The Harder They Come featured other artists such as Scotty, The Melodians, The Maytals, The Slickers and Desmond Dekker.
PICK 5: Album Of The Week