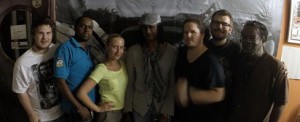 REGGAE GROUP MARCO GALLO & HILLTOWN SYNDICATE
RECORDS IN JAMAICA
Marc Gallo and the Hilltown Syndicate, a reggae playing music group based in Sweden, is currently here in Jamaica recording material for their upcoming debut album.
Reggae Times caught the group while they were working at the Anchor,(Music Works), Recording complex, on Windsor Road, in St. Andrew. Marc Gallo and the Hilltown Syndicate is a fairly young aggregation. They came together, as a unit, relatively six months ago and decided to record their debut album here after being encouraged by executive producer of the album, Winston Harriot, a Jamaican entertainment business entrepreneur. The group thought the idea to record this album project here was perfect as Marc explained they wanted the music to have a real "down in Jamaica" reggae feel to it.
Marc Gallo and the Hilltown Syndicate consist of six, members including one female. Marc Gallo is the group's lead vocalist, lyricist and music arranger. He informed however, that the final result of their efforts is usually decided on by the entire group. The other members are, Dannielle Latorres, back ground vocalist; David Fridstrom, lead guitar; Marcus Nelson, keyboards; Sebastian Petterssom, drums; and Jon Louis Herrera, bass, (Jon didn't make the trip to Jamaica). The group was augmented by the bass playing of experienced Jamaican bassist, Chris Meredith and percussionist, Errol "Ras Maximum" Bryan on this particular session.
Marc went on to emphasise that although the Marc Gallo and the Hilltown Syndicate is young, as a unit it should be noted that all of them are experienced musicians in their own right. From my perspective, the music I heard encompasses such styles as, Ska, Rock Steady, Lovers rock, Roots rock and hard core Drum and Bass "one drop" reggae.
Marc Gallo and the Hilltown Syndicate arrived in Jamaica on January 11 and will leave on January 25. Their next session will be with the famous Sly and Robbie musical team at their One Pop Studio on Red Hills Road, St. Andrew.
As the interview wound down Marc Gallo informed Reggae Times that later on in the group's career they are hoping and planning to do some collaborations with Jamaican acts and to do some more performances in Jamaica. Marc Gallo and the Hilltown Syndicate gave their first performance to a national audience on the night of Tuesday January 20, at the Essence's "live" music presentation in the car park of the King's Plaza on Constant Spring Rd., in St. Andrew.
By Baldwin S. A. Howe
REGGAE GROUP MARCO GALLO & HILLTOWN SYNDICATE RECORD IN JAMAICA