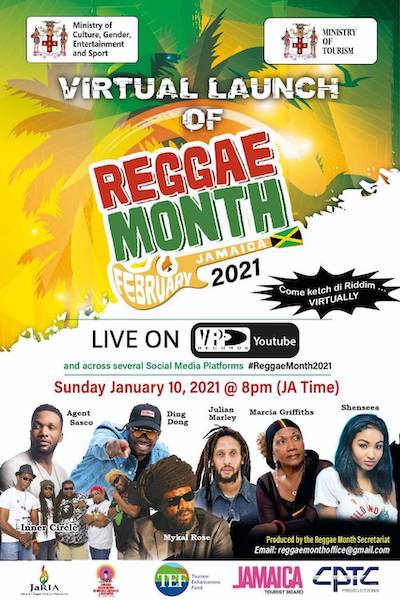 The annual Reggae Month celebration in honor of a music which strives to bring love and unity will not be daunted by the novel coronavirus pandemic; Reggae Month was launched virtually on Sunday January 10. It saw performances from a number of artistes including Marcia Griffiths, Shenseea, Mykal Rose, Ding Dong and Julian Marley among others. Though the show will have to adapt to the new normal it is slated to begin its events on Sunday January 31,2021, with its church service. This will then run throughout the month of February with a number of virtual events. Some of which includes; the Jamaica Music Museum's Grounation discussion series as well as a virtual sound clash, Reggae Tune Fi Tune.
Jamaica Reggae Industry Association (JaRIA) will also be hosting there signature events during Reggae Month, also making use of the virtual platform. The events include a weekly discussion session called Reggae Open University. Also on the agenda is the JaRIA Honour Awards to end
the months celebration by JaRIA.
Reggae month first started in 2008 and was chosen to be in February as the Reggae Icon Bob Marley's birthday is the 6th of February. The month-long celebration intends to draw an audience from across the globe, with reggae lovers tuning in on a virtual platform.
~T.M