Founded by Summerfest Productions Limited in the summer of 1993 Reggae Sumfest, was born. Jamaica's largest festival calls Catherine Hall, Montego Bay, Saint James home and will run from Sunday July 15, 2018 to Sunday July 22, 2018. The concert is Jamaica's first reggae festival and is  committed to the preservation of Jamaica's largest export which is the reggae music and its subsequent culture, which continue to be integral in the motivation of incoming visitors to the shores of Jamaica.
With that great vision of continuously sharing with world the beauty in Reggae music, this year in the 26th anniversary staging of Sumfest, the tone has been set by launching Sumfest in New York on Tuesday April 17, 2018.
It is the first time the festival has ever adapted that approach as the DL Nightclub Sumfest takeover was not complete without electric performances from Agent Sasco, Tosh Alexander, and Raging Fyah to give numerous industry players, sponsors and curious festival enthusiasts a small 'taste' of Jamaica as sponsors Red Stripe beer were also on hand to ensure brand Jamaica was well represented.
Joe Bogdannovich, the principal of Downsound Records, the production company responsible for the execution Sumfest established that Unity through music would be the theme for the event launch, as it brings people from all over the world in common accord to celebrate.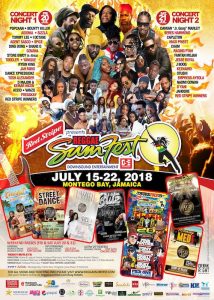 A complete breakdown of the exciting week long festival will kick start with Sumfest Colour-Fest Beach Party at Tropical Bliss Beach (Sun, July 15), followed by Sumfest Street Dance on the Hip Strip in Montego Bay (Mon, July 16), then the All White Party takes over the renowned Pier One Restaurant and Bar (Tues, July 17) after which The Blitz 'All Black' Party – venue TBD (Wed, July 18) will precede The Inspire Awards at Iberostar Hotel (Thu, July 19). The next event in the lineup will be the much anticipated Irish & Chin's World Clash 20th Anniversary at Pier One Event Centre (Thu, July 19) followed by Sumfest Symposium at Montego Bay Conference Centre (Fri, July 20); Then the show gets underway with Sumfest Festival Concert Night 1 headlined by acts such as Sizzla, Bounty Killer and Popcaan,  at Catherine Hall Event Centre (Fri, July 20); Sumfest Festival Concert Night 2 featuring  performers such as Damian Marley, Beres Hammond and Jesse Royal at Catherine Hall Event Centre (Sat, July 21); and lastly Sumfest Medz 'Tailgate' Party at Dump-Up Beach (Sun, July 22).
Reggae Sumfest 2018 launches in New York