First published in Reggae Times Magazine Vol 3 No.3 on July 2000.

WHILE the 2019 staging of the inaugural Reggae Sumfest Festival is just one month away, We would like to take you down memory lane. There is so much history behind this Festival that has spanned decades we would like to give you a taste of that.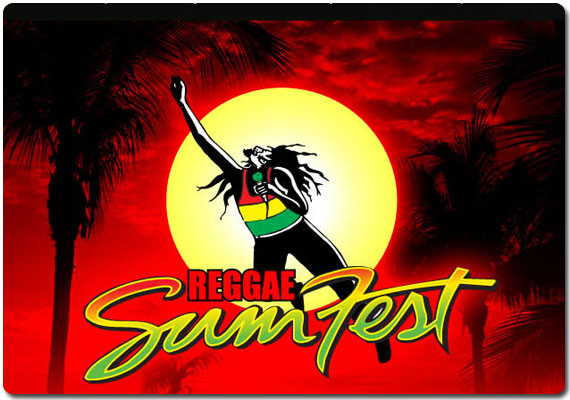 Reggae Sumfest, first staged in 1993, is an annual week-long music festival primarily dedicated to promoting Jamaica's indigenous art form- reggae music. The festival took place in Montego Bay during the first week of August.
Over the years, the event had showcased the best acts in reggae music. That included Maxi Priest, Shaggy, Steel Pulse, Beres Hammond, Ziggy Marley & and the Melody Makers, Dianna King, Third World, Beenie Man, Bunny Wailer, Inner Circle, the late Dennis Brown and Garnet Silk. Also Gregory Isaccs, Tony Rebel, Morgan Heritage, Ini Kamoze, Bounty Killer, Capleton, Buju Banton, Shabba Ranks, Mr. Vegas, Mr. Lex and many others. The festival had also featured artistes of the rhythm and blues genre, such as Boyz II Men, K-Ci & JoJo, Dru Hill, The Temptations, Ben E. King, The Manhattans, Cuba Gooding & the Main Ingredients and Brownstone.
Since its inception, the main focus of Reggae Sumfest has been to expose and promote Jamaica's unique music to the world. The festival has also helped to further expose Jamaica as a tourist destination and generates economic activity throughout the country, thereby improving the foreign exchange earning potential of the island.
Annually, the event plays host to approximately 50,000 patrons and during Reggae Sumfest week, hotels in and around Montego Bay enjoy full occupancy. Airlines are solidly booked and the positive impact of the event is felt throughout western Jamaica, benefiting taxi operators, craft vendors, tour operators, restaurants and night clubs. Through its partnership with Jamaica Tourist Board and the national carrier, Air Jamaica, Reggae Sumfest continues to be an ambassador for the island throughout the world.
Reggae Sumfest has now cemented itself as the reggae festival of choice and has earned an enviable reputation of presenting state of the art audio and lighting. Over the years, the event has hosted as many as 200 overseas press personnel and has been covered by international media houses such as Much Music, MTV, VH-1 Europe, Billboard, VIBE, BEAT, Rolling Stone, BBC and many others.
Reggae Sumfest 2000 promises to be the biggest and best, with a stellar line-up which includes Beres Hammond, SteeL Pulse, Third World, Shaggy, Luciano and Morgan Heritage, along with dancehall giants, Beenie Man and Bounty Killer, and many others. International recording stars already confirmed for Reggae Sumfest 2000 includes Wyclef Jean, Joe and Little Kim.
Reggae Sumfest, acclaimed as the world's greatest reggae festival, will kick off its weeklong 2000 series on Sunday July 30th. The festival which ends the following Sunday, August 6th, is set to feature an impressive line-up of acts including sizzling international performers such as Joe and Wyclef Jean.
The popular Beres Hammond, who needs no introductions, also dancehall rulers Beenie Man and Bounty Killer, will headline local performers. The talent of Grammy award winners Steel Pulse, Shaggy and Third World, plus cultural acts Luciano, Junior Kelly and Morgan Heritage will also be on parade. So too will DJs Mr. Lex, Sean Paul, Tanto Metro & Devonte, Elephant Man and Harry Toddler among others.
The launch of Sumfest 2000 was held at the Junkanoo Lounge, Hylton New Kingston on July 12th and saw scores of artistes, producers, journalist and other Sumfest well-wishers turning out to the occasion which took the form of a casual get together. Things didn't officially get underway until well over an hour past the scheduled time. But everyone's patience was pampered with souvenir t-shirts, an open bar and simply by rubbing shoulders with some prominent figures in our music fraternity.
The week of Reggae Sumfest 2000 will kick off on July 30th with a massive Beach Party at the Rose Hall Beach Club, which should see patrons gyrating to the pulsating rhythms of Byron Lee and The Dragoniares. Monday July 31st will see Pier 1 in Montego Bay coming alive with the immortal Stone Love headlining the Sound System giants for Heavyweight Countdown. Tuesday and Wednesday night the show will take a break before moving on to the main venue for Dance Hall night on Thursday. Friday, Saturday and Sunday have been dubbed International Nights I, II, III and will see a star-studded line-up of local and international artistes performing at the same venue.
Some of the platinum sponsors for Sumfest 2000 are Jamaica Tourist board, Air Jamaica, Matterhorn, Appleton Jamaica Rum, Wray & Nephew Rum Cream, CVM Television, Kentucky Fried Chicken, Red Stripe, Gleaner, Hot 102, IRIE FM and X-News.
Ticket price will range from $500-$1200 depending on the night. Summerfest Productions, are gearing up for the greatest Reggae Sumfest ever, carrying on from the high note on which Reggae Sumfest 1999 ended.
Line-up of Artistes
Alozade, Baby Cham, Beenie Man, Beres Hammond, Big Family, Black Lion, Bounty Killer, Byron Lee & The Dragonaires, Candy Man, Captain Barkey & Wickerman, Elephant Man, Harry Toddler, Hawkeye, Jah Creation, Joe, John Holt, Junior Kelly, Little Kim, Luciano, Morgan Heritage, Mr. Lex, Mr Vegas, Nash Lawson, Okonko, Sean Paul, Shaggy, Silva Kid, Steel Pulse, Tanto Metro & Devonte, Third World, Worn Dem Crew, Wyclef Jean, Peter Phillips Disco, Pisces & Zinc Fence, Sound Waves Disco, Stone Love
Schedule of Events
Sunday, July 30
Beach Party
Rose Hall Beach Club
3:00 PM
ADM: $500
Monday, July 31
Heavyweight Countdown
(Sound System Night)
Pier 1
7:00 PM
ADM: $500
Thursday, August 3
Matterhorn-VP Records Dance Hall Night
ADM: $1000
Friday, August 4
International Night I
ADM: $1200
Saturday, August 5
International Night II
ADM: $1200
Sunday, August 6
International Night III
ADM: $1200
MAIN VENUE
Gates open – 7 PM
Showtime – 9 PM