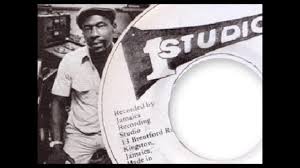 Sir Clement Seymour' Coxsone' Dodd was eulagized earlier this year it was also his 88th Birthday (January 29th) he passed away in 2004.
His studios situated at 13 Studio One Boulevard was the scene of much celebrations and gathering of friends and musical giants , 48 years of creativity was celebrated. Sir D was responsible for Ska and Rocksteady that gave way to Reggae.
'The Wall of Honor' painted(by UK graffiti artist Andrew Parle a big Reggae fan) depicting some of the musical greats 'who cut dem teet', at Studio One musicians,  like Peter Tosh , John Holt, Freddie McGregor,  Dennis Brown ,Ken Boothe , Marcia Griffiths, Bob Marley and so much more.
Sir D and Studio One was an haven for musicians of that time where under his guidance a slew of hopefuls got their break , he gave everyone a chance to make it .
Sir Clement Coxsone Dodd made a very worthwhile contribution to the world ,Well done. R.I.P
Respect to the Icon Maker