Mr boombastic himself, Orville Burrell aka Shaggy has joined forces with renowned hit-maker Sting on a brand new single.
Hit the play button below to listen to the collaboration entitled "Morning is Coming"
https://www.youtube.com/embed/PaZx4MptKjc
One of the great spectacles of 2018 was when, Shaggy and Sting got together to perform at the Grammy Awards.
Following that appearance and comedic skit, they joined forces in Jamaica to deliver a performance at Shaggy's charity event "Shaggy and Friends" where over US$1M was raised in aid of the Bustamante Children's hospital.
The new project which is named "Morning is Coming" , something that reggae will be  proud to call their own. This could definitely bring back the "R" into reggae music on radio stations and all media platforms across the world.
For both artistes it could be a much appreciated return to relevance on the top charts, because that is what you think about when two musicians of the top caliber get together.
The new project  44/876 is set to be released on  April 20, 2018 on Interscope/A&M label.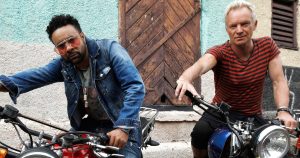 Shaggy and Sting with "Morning is Coming"