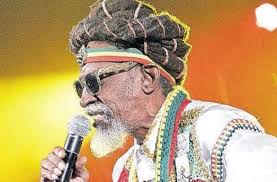 Reggae artiste Bunny Wailer is now out of the hospital after suffering his second stroke on July 20 of this year. Wailer is currently undergoing therapy in a rehabilitation facility, after being discharged from a Kingston-based hospital last Monday. This is the 73-years old second stroke in two years, the first being in 2018 but Wailer is responding favorably according to his management team.
In May, Jean "Sister Jean" Watt, partner of Bunny Wailers for more than 50 years went missing. Watt, 70, suffers from memory loss, has not been heard from since. Sister Jean's disappearance has had a great impact on Wailer.
Given name Neville Livingston, Bunny Wailer is a co-founder of The Wailers which included Bob Marley and Peter Tosh in 1963.
In 2017 Wailer was awarded an Order of Merit, be the Jamaican Government which is the country's fourth highest honor. And in February 2019 Wailer was again awarded by the Government for his contribution to Jamaican music with a Reggae Gold Award.
SPEEDY RECOVERY BUNNY WAILER