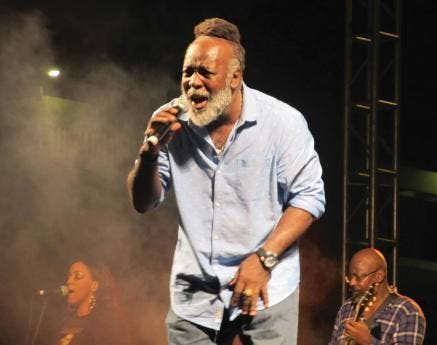 Last Thursday's Independence Day celebration at the Moon Palace Jamaica saw the one and only Jamaican soul crooner Mr. Freddie McGregor. Going through his vast catalogue, the veteran singer had the audience in a dancing frenzy. Not being able to perform before a live audience since January due to the Corona virus (Covid-19) pandemic, for the singer it was a pleasing and pleasurable moment.
The one hour set kicked off with I See It In You, followed by Africa Here I Come. Turning up the temperature, McGregor belted out tracks such as: Prophecy, Big Ship, Push Comes to Shove, Stop Loving You, Loving Pauper, Born a Winner and a cover of hid friend the late Dennis Brown's Revolution. Just for good measure and by special request the ballads; And so I'll Wait For You, an interpretation of the 1977 hit Always and Forever from Heatwave and British chart hits Just Don't Want To Be Lonely and Brandy were added to the mix.
Going back in time to Ska, McGregor had patrons like Paula Llewellyn, Director of Public Prosecution dancing and skaing to the sound of Miss Carry Go Bring Come. Freddie could do no wrongs for the Director of Public Prosecutions.
Enjoying the patronage of both Jamaicans and foreigners, McGregor had the perfect night entertaining the perfect audience. It was quite evident that though social distancing protocols were fully enforced, all parties had a great evening. Freddie's performance ended the activities at the resort for the day which showcased Jamaica's culture and heritage in commemoration of Independence Day. Guests and members were treated to a variety of Jamaican dishes and performances by Jonkanoo groups and a medley of winning songs from the Jamaica Cultural Development Commission (JCDC) Festival competition throughout the years
STAR OF THE MOON PALACE, FREDDIE MCGREGOR