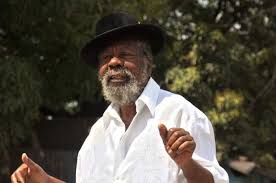 The pioneering 79 year old Ewart "Daddy U-Roy" Beckford died last night at The University Hospital of the West Indies. The man credited with starting toasting was a trailblazer in the field who also started the movement for MCs and rappers.
Born September 20,1941 began his taosting career in the 60's and is credited as the Godfather of dancehall. his first release was "Wake the Town" on Treasure Isle Label. Daddy U-Roy's new style quickly gained traction and soon made him one of the most popular toasters in Jamaica.
over the span of his career Daddy U-Roy worked with several acts including Lee "Scratch" Perry, Lloyd Daley and Sonia Pottinger among others. In 1975 the album "Dread Babylon" was released and with its success came other albums as well as releases across the globe, stretching as far as Nigeria.
Daddy U-Roy was also featured on the 2004 Grammy winning Toots and the Maytals 'True Love", which won Best Reggae album that year.
A true trailblazer Daddy U-Roy has paved the way for a number of persons in dancehall to this day. He will be missed. Reggae Times Magazine send our condolences to his family, loved ones and fans across the world.
~T.M
THE GODFATHER OF DANCEHALL DADDY U-ROY HAS DIED.