– Casey Gane – McCalla
In its 50 years of independence Jamaica has become synonymous with music, specifically Reggae. During its young history, Jamaica has by far put out more music per capita than any country in the world. Thousands of successful musicians have emerged from Jamaica, a country of under three million people.
Picking 50 of these acts was a very hard task given the many talented artists who have been making music since the 60's till today. Most of these artists have made the list because their music has stood the test of time, while a few newer artists made the list due to their impact on Reggae today.
The criteria for making the list include number of timeless hits, quality albums, live performances and impact on both Reggae and music as a whole. These artists come from various eras with different styles so ranking them was a tough job. While I'm sure many people will disagree with the rankings or find someone on the list who shouldn't be or someone who isn't on the list but should be, this list represents the diversity and greatness of Reggae music.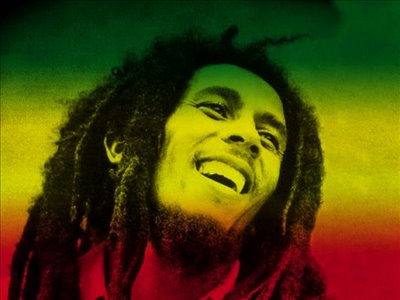 1.Bob Marley And The Wailers
Marley's music has stood the ultimate test of which all great art is measured, the test of time. Marley became a voice for not only Jamaica but the Third World and people of African descent around the world. With moving love songs like Stir It Up and Waiting In Vain, rebel anthems like "Get Up Stand Up," Marley represented the struggle of his native Jamaica, in songs like "Ambush In The Night" and Black people as a whole in "One Drop" and "Africa Unite."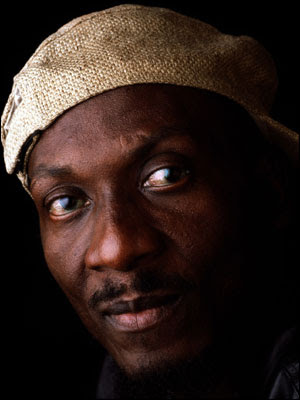 2.Jimmy Cliff
While Jimmy Cliff has had hits from the 50s until today, he will always be immortalized by the movie "The Harder They Come" in which he also provided the classic song of the same title and the epic ballad "Many Rivers To Cross"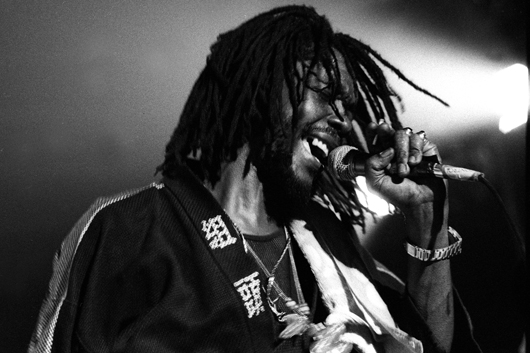 3.Peter Tosh
Peter Tosh was not only a great collaborator as a member of the Wailers, but was an incredible solo artist as well. Militant, fearless and fierce, Tosh created the ultimate marijuana anthem Legalize It" the call for justice "Equal Rights" and the dangerous proclamation "Stepping Razor".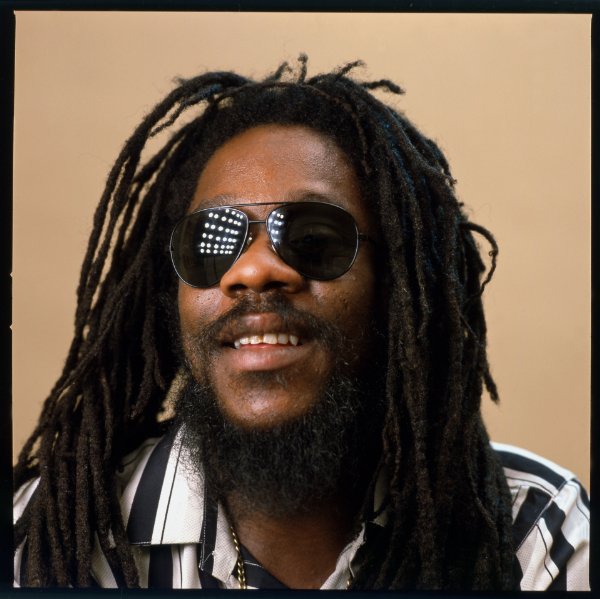 4. Dennis Brown
Dennis Brown's sweet voice and passionate songs make him still "The Crown Prince Of Reggae." Classic songs like "Money In My Pocket," "Here I Come," and "Lions and Leopards" have immortalized Brown's place in reggae.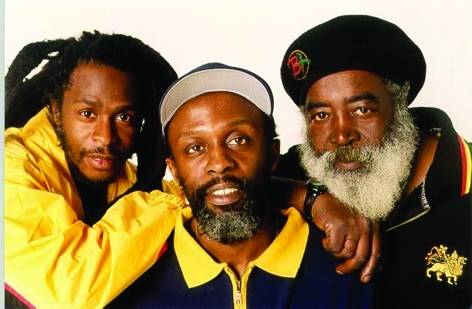 5. Steele Pulse
Steele Pulse showed reggae's growth and the impact of Jamaican immigration and also the growth of reggae as an art form as they incorporated complex melodies and harmonies to their form of reggae from the native home of Birmingham, England. Through afro centric songs like "Kings James Version," love songs like "Your House" and "Can't Stand The Heat" which was featured in "Do The Right Thing"
6. Supercat
With a distinct vocal tone and a knack for rhythm, melody and lyrics, Supercat helped create a dancehall explosion first in Jamaica in 80s and then in the USA in the early 90s. Songs full of badman tales with social consciousness like "Ghetto Red Hot," and "Nuff Man A Dead," boastful collaborations with Heavy D. "Dem No Worry We" and "Big And Ready" were
7. Toots And The Maytals
With Toots rough distinctive baritone and the Maytals sweet, complimentary harmonies, the group brought a gospel energy into reggae creating a Jamaican soul music that moved through the ska, rocksteady and reggae eras. Songs such as the jail tale "54-46" the epic anthem Bam-Bam, the intense "Pressure Drop" and the Jamaica nostalgia infused cover "Country Roads" have cemented Toots and the Maytals" place in reggae history.
8. Third World
Third World brought skilled musicianship and a pop sensibility that helped reggae continue its global appeal. Despite an ever-changing line up, Third World created a distinct sound from pop songs like "Now That We Found Love" to the slavery resistance anthem "96 Degrees" serving as "Reggae Ambassador" to world music.
9. Buju Banton
With a growling menacing voice that was capable of both singing and chatting Buju transcended the Dancehall after dominating it in the early nineties, to become a conscious cultural voice with his epic album, Til Shiloh. Classic Buju songs like the anti-violence "Murderer," the moving ballad "Untold Stories" and the drug dealer story "Driver A" will keep Buju in the limelight despite his incarceration.
10. Burning Spear
Burning Spear carried the torch of afro-centric progressive pro black conscious reggae he has been running with it for years. Burning Spear's songs also focused strongly on Black history with songs like "Marcus Garvey" and "Days Of Slavery."
11. Gregory Isaacs
Isaacs, also known as the Cool Ruler, used his tender voice and gift for melody and lyrics to create a rockers influenced sound that lasted through the dancehall era. His hits, "Night Nurse," "Rumours" and "Number One"
12. Shaggy
Perhaps the most "pop" of all reggae artists, Shaggy had an ear for a catchy hook and an easy going vocal style. From the reworking of the classic folk song "O Carolina" to mega-pop hits "Angel" and "It Wasn't Me,"  Shaggy's music has been spread across the world selling millions of albums. Shaggy has made reggae music accessible to people around the world.
13. John Holt
John Holt was a singer who made the transition from the rocksteady era into the conscious reggae era. Sweet love songs like "Tide Is High" and "Stick By Me" and his menacing marijuana anthem "Police In Helicopter" have all stood the test of time for Holt.
14. Yellowman
Yellowman will go down in history as one of the pioneers of dancehall due to his unique look, vocal style and risky clever lyrics. His style I highlighted in hits like "Zunguzeng," "Mad Over Me" and "Mr. Chin."
15. Black Uhuru
Black Uhuru is another Rastafarian roots reggae band that put clear melodies and harmonies over a reggae beat. Essential songs include "Guess Who's Coming To Dinner," "What Is Life" and "Sensimilla."
16. Barrington Levy
Barrington Levy's unique vocal ability complete with his own reggae version of scatting has made him one of the most distinct voices in reggae. A singer with a dancehall style, Levy's hits "Too Experienced," "Here I Come" and the weed anthem "Under Mi Sensi" still are played heavily today.
17. Alton Ellis
Alton Ellis's Jamaican spin on American R&B helped start a long tradition of Reggae crooners as one original rocksteady singers. His songs "I'm Still In Love With You," "Rocksteady" and "Breaking Up" continue to be played and reinterpreted.
18. Sizzla
With a vocal range that went from a sweet falsetto to growling roar, Sizzla was able to make "Da Real Ting" which included classics such as "Solid As A Rock," "One Of Those Day" and "Thank You Mama" which stands as one of the most complete reggae albums of all time.
19. Shabba Ranks
With a ruff gritty sex fused style, Shabba brought dancehall into the international spotlight in the 90s. He has had several hit songs including "Wicked In Bed," "Mr. Loverman" and "Ting-A-Ling" continue to rock the dancehall.
20. Beenie Man
With extreme vocal dexterity, and a voice that reflected his boisterous personality, Songs like "Romie" "Gyal Dem Sugar" and "dude" have earned Beenie the title "King Of The Dancehall."
21. Tanya Stephens
Tanya Stephens has held her own in the male dominated world of reggae. Her passionate bluesy songs "It's a Pity," "Can't Breathe" and "These Streets" have added a well needed strong yet feminine touch to reggae.
22. Chaka Demus And Pliers
The rough voiced Deejay Chaka Demus and the sweet sounding Pliers made the ultimate dancehall duo, mixing melody and rhythm for several memorable songs. Their two songs on the same riddim "Murder She Wrote" and their cover "Bam Bam" along with their international hit "Tease Me" make Chaka Demus And Pliers one of the premiere dancehall duos in reggae.
23. Maxi Priest
Maxi Priest's brought lover's rock into the dancehall age with sweet cover songs and love songs. He will be forever remembered for his cover songs "Wild World," "Crazy Love" as well as his originals "Close To You" and "Housecall"
24. Luciano
With voice that exudes wisdom and peace, Luciano has created a great deal of positive music during his career. Among his many hits are "Ulterior Motive" "Give Praise" and "Me Again Jah."
25. Capleton
Like Buju, Capleton is another dancehall artist who made the transition to Rastafarianism and merged his dancehall style with tradition conscious roots reggae. From his dancehall smashes "Tour" and "Slew Dem" to his roots tunes, "Jah Jah City" and his Capleton continues to entertain and enlighten with his music.
26. Garnett Silk
With an angelic voice and darkly spiritual lyrics, Garnett Silk is one of the most musically distinct singers in reggae. He will forever be remembered by his hits "Hello Mama Africa," "My Love Is Growing," and "Complaint" with Buju Banton.
27. Jacob Miller
Jacob Miller's energy and original vocal style made him the face of the Rockers movement, the same title of the movie he starred in. Some of his hits are, ""All Night Til Daylight" "We A Rockers" and "Peace Treaty Special, which honored the temporary truce between warring JLP and PNP gunmen in 1978.
28. Tony Rebel
A vibrant performer, Tony Rebel helped bring conscious singing into the dancehall era. He is immortalized by his song "Fresh Vegetable" and "If Jah Is Standing By My Side," both the English and Spanish versions and "Sweet Jamaica."
29.Desmond Dekker
Desmond Dekker was a pioneering voice for the Rocksteady music that would become reggae's foundation, Dekker had several classic original songs such as "The Israelites," "007 (Shanty Town) and "It Miek"
30.Shinehead
Shinehead was one of the first reggae artists to incorporate hip-hop styles into his music. Using a wide variety of music for inspiration, Shinehead had hits with "Gimme No Crack" "Jamaican In New York" and "Collie Weed"
31. Mavado
With a haunting voice and harsh subject matter, Mavado music reflects the harsh realities he was brought up in. Songs like "Delilah," "On The Rock" and "Wah Dem A Do" reflect Mavados ability to paint a dark picture through music.
32.Tony Rebel
Tony Rebel helped bring conscious singing into the dancehall era. He is immortalized by his song "Fresh Vegetable" and "If Jah Is Standing By My Side," both the English and Spanish versions and "Sweet Jamaica."
33.Richie Spice
With a calm and wise demeanor, Richie Spice has mace his mark with socially conscious songs that serve as commentary on the problems of both Jamaica and the world. Hits like "Earth A Run Red," "Youth Dem Cold" and "Blood Again" prove Richie Spice is hear to stay.
34. Bounty Killer
With a style to match his name, Bounty Killer brought the badman persona to the dancehall complete with several verbal clashes with several dancehall artists. Bounty's style was at it's best with collaborations with various artists such as "Living Dangerously" with Barrington Levy, "Deadly Zone" with rap group Mobb Deep and "How We Do It" with Elephant Man.
35. Damian Marley
With style more similar to Supercat's than his father's Junior Gong has brought conscious Rasta themes into modern day dancehall. He will be forever know for his new Jamaican anthem, "Welcome To Jamrock" along with other hits like "One Loaf Of Bread" and "The Mission."
36. Freddie McGregor
Freddie McGregor is another in a long line of Jamaican R&B influenced reggae singers. Hits like "Big Ship" "I Was Born A Winner" and "I Don't Want To Be Lonely" prove he ranks among the best reggae singers of all time.
37. Vybz Kartel
Vybz Kartel has become a cult figure in Jamaica and abroad with his clever sexually driven lyrics and his complex rhythmic patterns. Songs like "Ramping Shop" "Clarks" and "Summertime" show that Kartel not only has the ability for bad man tunes but is very capable hit maker.
38. Morgan Heritage
The children of Danroy Morgan combined to form an excellent group, who where musically able to incorporate various styles, melodies and rhythm using both their musical and vocal talents. Hits include "Down By The River," "Don't Haffi Dread" and "How Come"
39. Lady Saw
Lady Saw matched the male slackness in the dancehall with a rough, risky style of her own. Her hits bursted with sexuality and dancehall energy such as "Sycamore Tree," "Healing" and Beenie Man and even showed a Country music style on "Give Me A Reason."
40. Tarrus Riley
Riley's booming tenor voice and poignant lyrics have made him reggae's latest roots sensation. Hits like "Beware" "Superwoman" and "Love Created I" prove that Tarrus Riley is reggae figure who's here to stay.
41. Marcia Griffiths
Aside from being a member of the I-Threes, Bob Marley's back up singers, Marcia was quite the capable solo artist herself. She had a smash hit with the disco fueled "Electric Boogie" and several reggae hits like "Fire Burning" and her duet with Bob Andy "Young Gifted And Black."
42. Jah Cure
Jah Cure recorded several of his biggest hits while in jail. Since his release he continued his mix of conscious songs and loves songs including "True Reflections," "Longing For" and "Sticky"
43. Elephant Man
The "Energy God" brings the excitement and adrenalin that his name would have you think. Among his many dance based hits are "Willie Bounce," "Nuh Linga" and "Pon Di River"
44. Ziggy Marley
Bob's son Ziggy carried on his tradition of conscious roots reggae with a pop feel to it. Ziggy's songs "Tomorrow People" "Love Is My Religion" and True To Myself" would all make his father proud.
45. Mr. Vegas
With a distinct high-pitched tone, Mr. Vegas has managed to mash up both the dancehall while creating ballads at the same time. A sample of his hit include "Heads High," "I Am Blessed" and "Bruk It Now."
46. Gyptian
With a sugar sweet voice and a talent for melodies, Gyptian has managed to create several hits songs in his short career. His versatility is shown by the conscious nyabinghi driven "Serious Times," the happy love song "Beautiful Lady" and the dance hit "Hol' Yuh"
47. Sean Paul
Sean Paul put a clean polish on dancehall music with his distinctive vocal tone and ability to combine rhythms and melodies. Some songs he is memorable for include, "Stick Like Glue," "Gimme The Light" and "Never Be The Same"
48. Patra
As part of the early nineties dancehall explosion Patra brought some sexiness to the male, sex driven world of dancehall. Here hits included "Romantic Call," "Worker Man" and the Grace Jones cover "Pull Up To My Bumper."
49. Inner Circle
Inner Circle has a gift for making reggae pop songs regardless of who's in the group. The group had hits such as "Tenement Yard" with Jacob Miller as lead singers and smash hits like "Sweat" and "Bad Boys" which will live pop culture history as the theme song for "Cops"
50. Sanchez
Sanchez rough yet sweet voice gave him a penchant for turning easy listening American songs into uniquely Jamaican dancehall smashes. His hits include "Missing You," "Never Dis The Man" and "Frenzy"
Top 50 Reggae Acts Of All Time